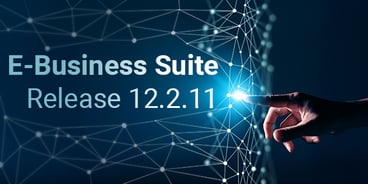 Oracle recently announced the availability of E-Business Suite release 12.2.11, which further illustrates Oracle's continued support of EBS. This release delivers ongoing updates without the need for a major upgrade. Enhancements were focused around Modern User Experience, Functional Innovation, and Operational Efficiency. But what impact could 12.2.11 have on your organization?
A new modern look and feel user interface with access to the new Enterprise Command Center dashboards. With command centers, users have a better, more productive user experience, while IT has reduced the demand for custom operational reports.
Industry and Cross-Industry investments for Invoicing, Procurement, Projects, Supply Chain Management, Order Management, Warehouse Management, Sampling, Asset Management, and support for Outbound REST services. All enhancements help organizations continue to run their operations on EBS.
Operational efficiencies are seeing a boost with organizations moving their EBS environments to Oracle Cloud Infrastructure (OCI). Without having to focus resources on maintaining on-premises environments they can be reallocated to more strategic initiatives.
The best part? Oracle will continue to provide Premier Support for Release 12.2 till at least 2032. Oracle is not planning to sunset this product line in the near future, ie. EBS customers are not forced to migrate to NetSuite, Cloud ERP, Cloud HCM, or Cloud SCM to another platform (though there may be benefits for migrating pieces to Oracle's Cloud Apps)
What can Denovo do for your E-Business Suite?