Today's post begins a 4-part series on JDE Notifications. This functionality was first released in Tools 9.2.2.4, operating only in 9.2. Notifications allow you to define an alert that can notify, email, or text a user when that alert is triggered. For example, E1 can send you a text if you have a requisition still waiting for your approval. (If you're not on 9.2 yet, Notifications are a GREAT reason to upgrade!)
Oracle has created over 100 canned, Pre-Configured Notifications since 2018 in Tools Release 9.2.2.4. Notifications are part of the powerful Orchestrator tool, but the delivered Notifications are ready for use once they are verified to be installed, approved, and secured. Notifications are managed via the UDO Administration application (P98220U) and promoted to PY and PD via OMW Web (P98220W).

The Notifications (and other delivered UDOs) were originally "released" and organized by module in their own ESU's. Some of these ESU's still work, but since their original release, all new and updated ones are delivered along with any other UDO updates for that particular month/release. The original ESU listing only has the first set of pre-configured Notifications.

Information about the Pre-Configured Notifications is now reflected in the JDE Guides.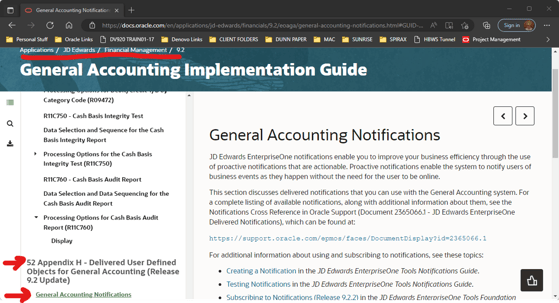 This is an example of the General Accounting Guide's Appendix H (figure 1).
In the next post in this 4-part series, we'll dig further into Notification security, so stay tuned!
We at Denovo want you to get the most out of your Oracle investment, and we hope this series will help with that.
Want to see your question answered in the series, or want to subscribe for alerts on future issues? Simply fill out the form below!