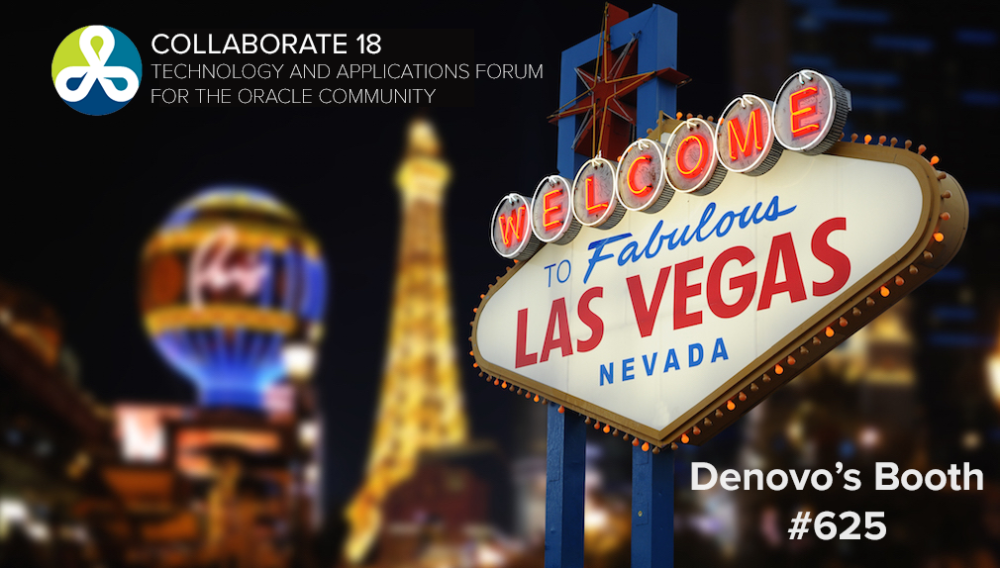 Denovo will deliver speaking sessions to discuss the release of a new "Code Current" program, an increased focus on Managed Services, and product improvements on Denovo Quick Calculators.
Denovo is looking forward to exhibiting again this year at COLLABORATE 18 in Mandalay Bay, Las Vegas, Nevada. Come visit the Denovo team at Booth #625 on Main Street in the Exhibitor Hall. We will be handing out Starbucks gift cards every hour on the hour. We have compelling new sessions and other events that your company will want to take advantage of.
Heading to Vegas early? Denovo is the only partner providing two FREE Quest Pre-Conference Workshops.
"Move JD Edwards to the Cloud? Ridiculous You Say! But Not as Hard as You Think, Let Us Show You How!" – Lagoon A 10:00am – 12:30pm
This workshop will focus on how to move your JD Edwards environment to the cloud and avoid common pitfalls. We will discuss the technology requirements, the pre-requisites that need to be completed, and the best practices to support your environment once you've moved to the cloud.
"Let's Do This! How to Adopt the JD Edwards Continuous Delivery (Code Current) Model and Get Instant Results!" – Lagoon A 12:30pm – 2:45pm
Denovo has partnered with Q Software to explore the "Continuous Delivery" concept that you keep hearing about from Oracle. You likely have been asking yourself what does "Continuous Delivery" really mean, and why should you care. Denovo and Q Software will discuss what "Continuous Delivery" is, what it means to JD Edwards customers, and what the benefits are for your organization. Upgrades in JD Edwards no longer have to be a cumbersome, complicated, company burden or a strain on your IT department. (Complimentary lunch will be provided to all attending our workshops).
Starting Monday, Denovo has five highly informative Speaking Sessions planned.
Monday, April 23
"Let's Do This! How to Adopt the JD Edwards Continuous Delivery (Code Current) Model and Get Instant Results!" – South Pacific G 9:45am – 10:45am
Following Dan Good's Opening Keynote Address, Denovo will be kicking-off two speaking sessions. The first speaking session will be a condensed version of the Sunday workshop and will feature Denovo's Senior Practice Director, Susan Szymanski.
"Extending Cloud Applications Using PaaS for SaaS" – South Sea Ballroom C 11:00am – 12:00pm
This presentation, from Denovo Practice Manager, Michael Lennon, will help you bridge the gaps for critical business processes by implementing Platform as a Service (PaaS) solutions to integrate, extend, and analyze data and processes that are not supported by cloud functionality. PaaS solutions allow developers, IT professionals, and business leaders to develop, test, and deploy the next generation of applications in the cloud alongside their Cloud ERP in a complete, open, secure, and cost effective way. This presentation will include a live demo of PaaS solutions which Denovo has already built to support cloud customization.
Tuesday, April 24
"Quick Calculator Cloud – Your Workaround for the SaaS(y) Cloud" – Lagoon K 11:00am – 12:00pm
Denovo has more in store for you. Denovo's Senior Solutions Architect, Rob Martin, will give you an in-depth look at exclusive Denovo created software that is complimentary to Oracle ERP. It is ideal for users already leveraging the Oracle SaaS(y) Cloud. There may be a process or two (or perhaps three) that just don't work the same way your program does. That could force you to have to use a spreadsheet or outside program to perform some custom calculation. Then, to get the data in your ERP, you'd have to manually insert the data back into the cloud. Thanks to Denovo, you won't have those problems anymore. Denovo's Quick Calculator Cloud acts as a Platform as a Service (PaaS) extension to your cloud to help with these custom processes. This exclusive Denovo software can save hours of your IT time by allowing your business users to customize their processes using automation while keeping everything connected.
Wednesday, April 25
"Upgrading E1 9.0 to E1 9.2 within 76 days" – Lagoon B 1:15pm – 2:15pm
This presentation will be led by Denovo customer, Cyn Clark with Washington Corporations and supported by Denovo's Senior Account Executive, Aaron Webb. This is a true case study on how Denovo was able to successfully upgrade Washington Corporations' JD Edwards EnterpriseOne 9.0 to JD Edwards EnterpriseOne 9.2 in just 76 days.
"An Insider's View of Oracle's Cloud Infrastructure (a.k.a. Bare Metal Cloud)" – Surf A 4:15pm – 5:15pm
Denovo's recently appointed EVP & CTO, Paul Hughes, will share his knowledge and experience developing and delivering cloud solutions for complex IT/customer needs. Prior to arriving at Denovo, Paul served as Oracle Group VP, CTO & Cloud Solutions Architect for Oracle's Cloud Infrastructure (OCI). Paul will cover real-life customer examples and how to fully monitor and manage project-based services including database load testing, database performance assessment and tuning, consolidation planning, provisioning, and migration.
Kick-Back Time: Customer Appreciation Reception – Tuesday Border Grill Mandalay Bay 7:30pm – 9:30pm
After a few days of stimulating presentations, it's time to kick-back and have some fun. And you don't even have to leave Mandalay Bay. It's our way of showing our appreciation to our valued customers. Enjoy a cocktail (or two) plus delicious hors d'oeuvres with strategic industry partners: Denovo, Oracle, Q Software, Magic, and DSI.
Find out More: Schedule a 1:1 Meeting in our Scenic Suite with Snacks & Refreshments
Denovo has reserved a beautiful and scenic suite in Mandalay Bay to conduct individual meetings to learn about your specific needs and how Denovo can help. As another token of our appreciation, you will walk away with free Yeti Tumblers. We look forward to meeting each and every one of you.
For more information on Denovo's sessions at COLLABORATE 18 and to add them to your event schedule, click here.
Share this blog about Denovo at COLLABORATE 18 @DenovoCloud #C18LV.