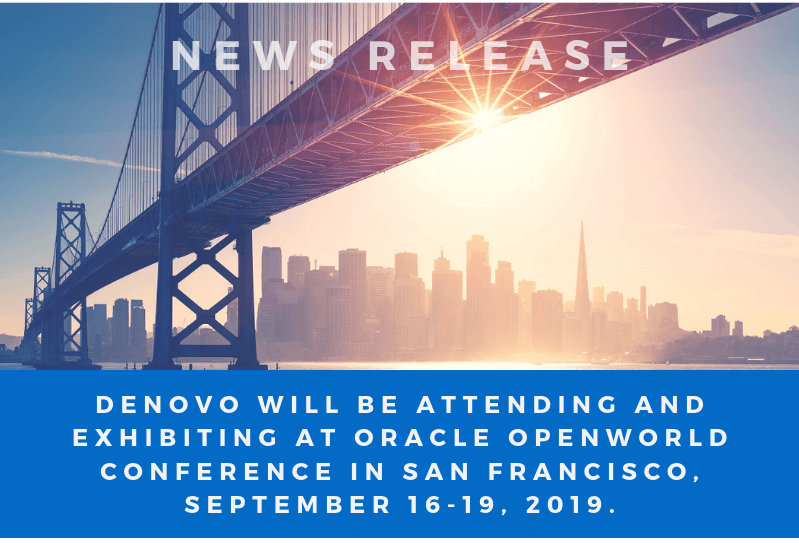 Boulder, Colorado. August 28, 2019. Denovo will be attending and exhibiting at Oracle OpenWorld Conference in San Francisco, September 16-19, 2019. The popular, world-class event will be held at Moscone Center, the largest convention and exhibition complex in San Francisco.
Denovo will be exhibiting in Booth 2000 with an array of experts on hand to speak with customers about how they are delivering a continuous delivery model to meet the demands of the business, becoming agile and keeping costs in alignment. Denovo can assist with their deep ERP expertise in implementing holistic solutions which includes support to upgrade your ERP, strategize your technology momentum, implement best in breed solutions, move from on premise to cloud hosting and adopt managed services to meet your business needs.
During the conference, you can schedule your free 30-minute consultation at OpenWorld to strategize your Technology Roadmap, learn how you can get more out of your ERP, move your on-premise to a Cloud Infrastructure, protect your applications and data with a robust Disaster Recovery solution and explore all the benefits having a Managed Service provider can offer. Book your session here.
On Monday, September 16th at 7:30 pm, Denovo will co-host with Q Software and DSI Global for the annual customer appreciation party at OpenWorld 2019. It's a great time to take a quick break, come together and have a good time. The event will be at Johnny Foley's Irish Pub, considered to be San Francisco's quintessential gathering place, featuring classic rock 'n roll bands and performers, along with the premier Dueling Pianos in the Cellar bar. EAT. DRINK. NETWORK. FUN. We can't wait to see you there! Reservations are required, reserve your seat today!
"Denovo is excited to be attending this industry-leading event and we look forward to meeting with and sharing ideas with some of the industry's best," commented Marty Snella, CEO, Denovo.
Denovo is the Leading ERP Expert and Managed Service Provider for the mid to large enterprise market. Denovo is comprised of a team of trusted advisors, who provide the services, software and expertise to simplify and scale your business. Over 30 years of expertise has helped Denovo clients focus on innovation and growth. Denovo offers several different cloud environments in which they provide services to protect the applications of more than 1,500 customers and delivers bundled solutions from enterprise data centers located throughout the U.S.
Oracle OpenWorld is the ultimate forum for bringing together decision-makers and influencers from finance, operations, supply chain, human resources, sales, marketing, customer service, and IT. These organizations are all focused on how to leverage digital technologies and the cloud for business success. This much-anticipated event promises an exciting and insightful look into the 'next big thing' that's ahead for technology.
About Denovo
Established in 2003, Denovo Ventures, LLC is a full-service Enterprise Hosting/Cloud Computing, Application Managed Services, Managed Disaster Recovery and Professional Services firm with extensive expertise in designing, implementing and supporting enterprise software. Denovo has provided services to over 1,500 customers. Denovo delivers bundled solutions from their enterprise data centers located in the United States or through several public cloud environments.
Denovo is a proud Oracle Platinum Partner. Denovo's team of over 300 Oracle resources have a combined 3,600+ years of Oracle experience. This includes successfully completing JD Edwards, Oracle E-Business Suite, and Oracle ERP Cloud implementation projects for a wide variety of commercial and public-sector clients. The company is headquartered in Boulder, Colorado. For more information on who Denovo is, please visit our website at Denovo-us.com.