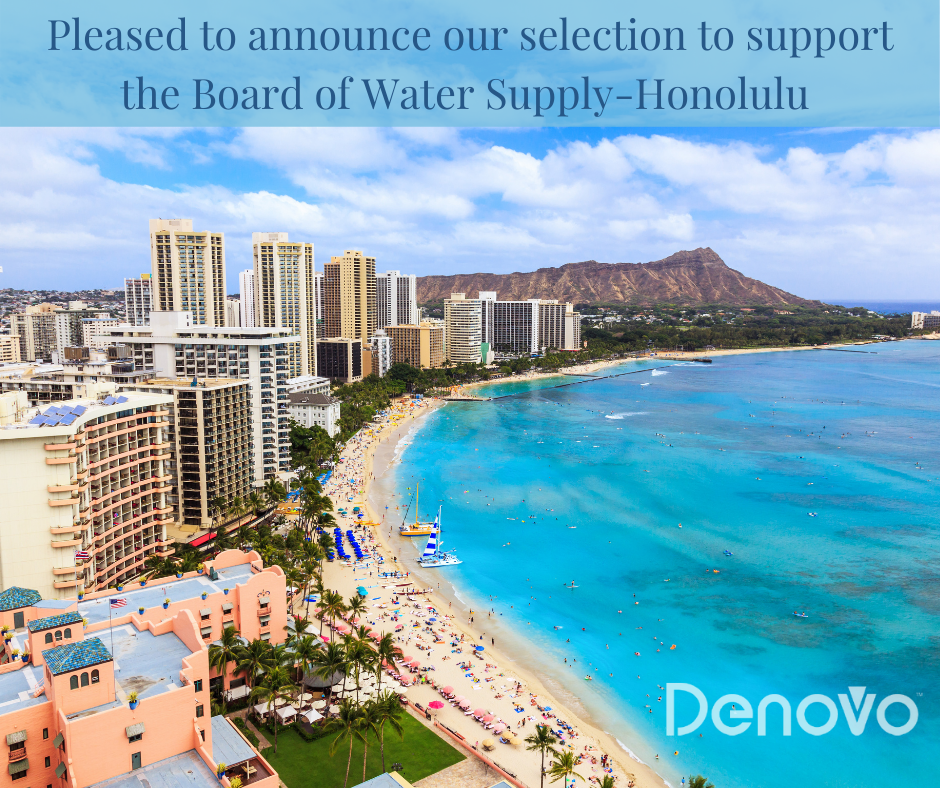 Denovo, a leading provider of managed enterprise resource planning (ERP), professional services consulting and IT services, is pleased to announce the completion of additional projects for Honolulu Board of Water Supply that improve their customers' experience and meet Key Government Accounting Requirements (GASB 75 & GASB 87) to their JDE Enterprise One 9.2 upgrade previously completed by Denovo.
Denovo created OPEB reports to satisfy GASB 75 and implemented code current Lease Management in preparation for the GASB 87 implementation deadline of June 2021. The Government Accounting Standards Board ("GASB") issued Summary of Statements No.87 Leases in June 2017 requiring all leases to be reported as capital leases and eliminate the classification of an operating lease unless the lease is short-term, defined as 12 month or less. The objective is to better meet the needs of financial statement users by improving accounting and financial reporting for leases by governments.
Honolulu Board of Water Supply chose Denovo as their vendor of choice from public RFP solicitations based on Denovo's deep understanding of both JDE software and of public sector business processes. Denovo has a large number of public sector clients already using JDE, and Honolulu Board of Water Supply is an example of one who is staying current on JDE, reaping all the benefits that EnterpriseOne 9.2 has to offer.
"Denovo responds quickly to all our requests regardless of how critical the issue or question is. Their knowledge goes beyond just JDE functional and technical expertise. The Denovo consultants have understanding specifically in public sector accounting, payroll, procurement, and inventory. This makes their solutions to our issues more meaningful since they originate not just from JDE problem resolution (just fix it) but from a complete approach that is best for HBWS and follows best practices. We have tremendous confidence in Denovo and their continued, reliable, exceptional support" said Leanne Matsumoto, Assistant Water Works Controller for Honolulu Board of Water Supply.
Denovo provides ERP managed services to our customers in any cloud or on their premises, with an optional Code Current service offering. By keeping code-current Customers have access to continuous Oracle improvements, receive a much higher return on annual maintenance costs and increased security and stability for JDE EnterpriseOne.
Customers embracing Denovo's Code Current as a Service offering enjoy:
Up to two (2) code current projects / change events every twelve (12) months;
Comprehensive project services; this includes CNC support to apply the updates, technical and functional identification of the update impact, project management and oversight,
Included tools upgrades as required;
Testing support and retrofit of all affected customizations is included; and,
Implementation of new features, modules, or functionality can be added to the service.
Denovo delivers code current in a Customer's existing preproduction environment or in a new environment, solely at the Customer's discretion.
"Denovo's code current service offering is a material differentiator for our customers. Denovo's flexible structure allows our customers to better plan and operate their business while taking advantage of key performance improvement opportunities included in new Oracle releases," said David Shimoni, CEO of Denovo.
About Denovo
Established in 2003, Denovo Ventures, LLC (Denovo) is a full-service enterprise hosting, cloud computing, application managed services, managed disaster recovery, and professional services firm with extensive expertise in designing, implementing, and supporting enterprise software.
Denovo is proud to be an Oracle Platinum Partner. Our team of over 300 Oracle resources has a combined 3,600+ years of Oracle experience. This includes successfully completing JD Edwards, Oracle E-Business Suite, and Oracle ERP Cloud implementation projects for a wide variety of commercial and public-sector clients. The company is headquartered in Boulder, Colorado. For more information on who Denovo is, please visit our website at Denovo-us.com
About Honolulu Board of Water Supply
The Board of Water Supply (BWS), a semi-autonomous agency of the City and County of Honolulu, manages Oahu's municipal water resources and distribution system. As the largest water utility in the State, the BWS serves approximately one million customers on Oahu. The BWS embraces its mission of "Water for Life – Ka Wai Ola"—to provide a safe, dependable, and affordable water supply, now and into the future. Uwē ka lani, ola ka honua – "When the heavens weep, the earth lives."