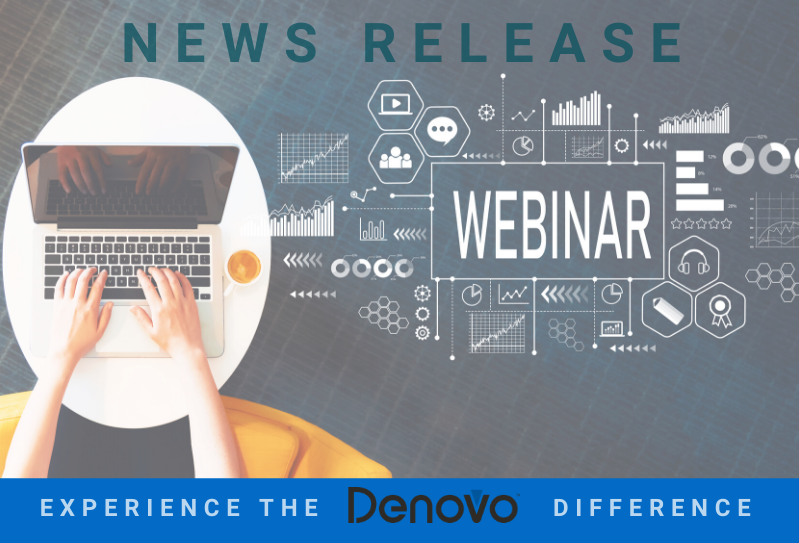 Boulder, CO – April 17th., 2020 – Denovo, a leading provider of managed IT services and enterprise resource planning (ERP) consulting expertise for the mid-to-large enterprise market across North America, is pleased to announce two new webinars that will be held on April 21st and April 28th, 2020.
The first webinar on April 21st will be hosted by Paul Cioni, a technology leader with over 20 years of extensive operations, technology, and product experience in cloud and managed services. It's entitled "Be Bold – The Customer's guide to maximizing the benefits of Managed Cloud Services," and will focus on how the cloud has impacted IT and the ways businesses and organizations can leverage its benefits while lowering their capital costs.
The second webinar will take place on April 28th and is entitled "Testing those new Orchestrations: From pretty good testing to awesome." It's hosted by Phil Myrant, an enterprise technologist and architect with over 25 years of experience in system automation and integration. The webinar focuses on how to use Orchestrator to test Orchestrations to help ensure that they're ready for production.
"Denovo has a strong reputation in the community for being ERP experts, and we're proud to share our expertise in a webinar," says CEO David Shimoni. "Participants will learn how to align and strategize their objectives, maximize user experience, streamline processes, and adopt new functionalities to gain cost savings and efficiencies."
Each webinar attendee will receive a virtual $10 Starbucks gift card upon registration. If they attend both events they will be entered into a drawing for Apple AirPods.
———————–
About Denovo

Established in 2003, Denovo Ventures, LLC, is a full-service Enterprise Hosting/Cloud Computing, Application Managed Services, Managed Disaster Recovery and Professional Services firm with extensive expertise in designing, implementing, and supporting enterprise software.
Denovo is a proud Oracle Platinum Partner. Denovo's team of over 300 Oracle resources have a combined 3,600+ years of Oracle experience. This includes successfully completing JD Edwards, Oracle E-Business Suite, and Oracle ERP Cloud implementation projects for a wide variety of commercial and public-sector clients. The company is headquartered in Boulder, Colorado. For more information on who Denovo is, please visit our website at Denovo-us.com.