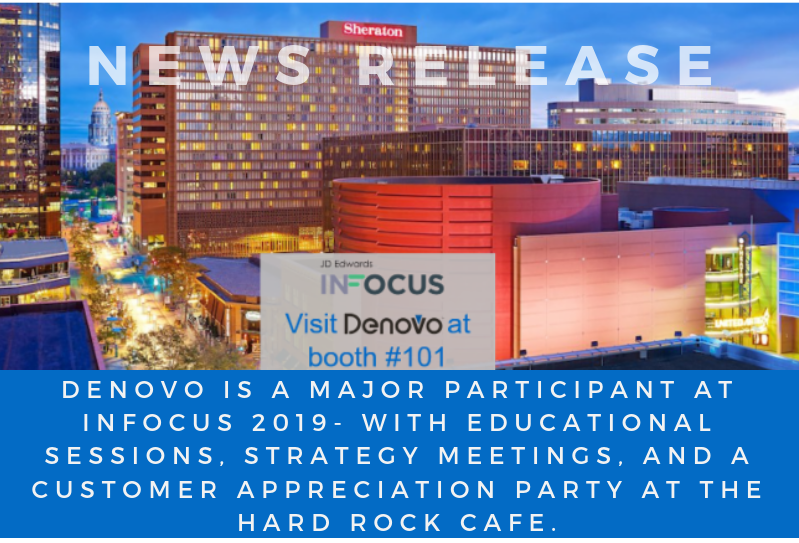 INCLUDING EDUCATIONAL SESSIONS, STRATEGY MEETINGS, AND A CUSTOMER APPRECIATION PARTY AT THE HARD ROCK CAFE.
Denovo is excited to participate in the premier deep-dive conference for the JD Edwards community, INFOCUS 2019, being held in Denver, Co., at the Sheraton Denver Downtown Hotel.
Visit the Denovo booth to talk all things JD Edwards including your current release, code current strategies, new functionality. Discover more about Denovo's application level Disaster Recovery for your JD Edwards as well as Denovo on Demand, a proprietary Denovo platform that aggregates operational metrics, providing customers a 360 degree view of critical analytics from a single application — simplifying daily operations.
Denovo will be hosting several events at InFocus 2019, so plan to join us at one or all of them. We would love to see you there! Denovo's Customer Appreciation Party is a much-anticipated, annual event. At InFocus 2019, we will be celebrating, along with our partners, Q Software and DSI and Cannon at the Hard Rock Café, Tuesday, August 20, 7:30 pm – 9:30 pm. Join us for great food and drinks just minutes from the InFocus event. Reservations are required, reserve your seat today!
In addition to the energizing camaraderie and fun, plan to attend at least one of our Educational Sessions.
Tuesday, Aug 20: Executive Talk: Why Cloud and Why Now Besides the tactical process of the actual migration, executives are digging in deep before they leap to ensure they are set up for success.
Wednesday, Aug 21: Dairy Farmers of America Taking a Single Scoop of ERP & a Hosted Platform Learn the obstacles that were overcome by Dairy Farmers of America (DFA), hear what their cloud forward strategies were, and why they selected Denovo as their business partner for an Oracle JD Edwards migration from World A9.2.1 to EnterpriseOne 9.2, a move to Oracle Cloud Infrastructure and ongoing Managed Services.
Thursday, Aug 22: 10 Cool Things You Can Do on JDE 9.2 Learn ten things you could be doing with JD Edwards 9.2 right now! Did you know you could build your own dashboards and reporting? What about personalizing grids, queries, favorites and personal forms?
And don't forget to book your Strategy Meeting. Denovo is offering free 30 minute consultations at InFocus to strategize how you can become Code Current, move to the Cloud, protect your applications with Disaster Recovery and explore all the benefits having a full service Managed Service provider can offer.
Denovo is proud to be an Oracle Platinum Partner. We look forward to seeing you at InFocus 2019. Remember to Book Now!
About Denovo
Established in 2003, Denovo Ventures, LLC is a full-service Enterprise Hosting/Cloud Computing, Application Managed Services, Managed Disaster Recovery and Professional Services firm with extensive expertise in designing, implementing and supporting enterprise software. Denovo has provided services to over 1,500 customers. Denovo delivers bundled solutions from their enterprise data centers located in the United States or through several public cloud environments.
As the most experienced mid-market Oracle Platinum Partner, Denovo's team of over 300 Oracle resources have a combined 3,600+ years of Oracle experience. This includes successfully completing JD Edwards, Oracle E-Business Suite, and Oracle ERP Cloud implementation projects for a wide variety of commercial and public-sector clients. The company is headquartered in Boulder, Colorado. For more information on who Denovo is, please visit our website at Denovo-us.com.