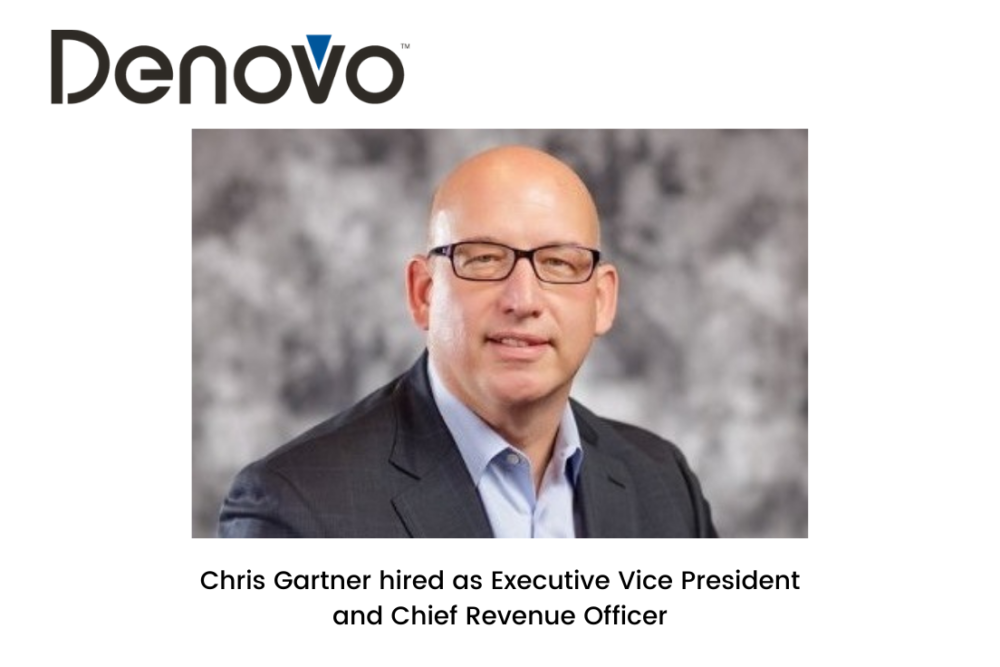 Boulder, CO – October 13, 2020 – Denovo, a leading provider of managed services for enterprise resource planning (ERP), cloud and IT services, is pleased to announce the addition of an industry veteran to its executive team, with the hiring of Chris Gartner as Executive Vice President and Chief Revenue Officer.
Gartner joins Denovo after thirty years of experience leading consulting, product management, sales, and marketing teams, specifically in the managed services and ERP applications market spaces. Prior to joining the Denovo team, Chris was Managing Director at Triumph Consulting, where he provided advisory services to cloud platforms, cloud services and SaaS application companies; organizations looking for ways to better align with changing customer needs, expand into new markets and improve their overall results.
Before Triumph, Gartner led the Sales & Marketing teams, for 5 years, at Velocity Technology Solutions Where he helped double bookings and cut 30% of sales expense, over 4 years. At Velocity, he led efforts to: realign sales and customer service, employ digital marketing, embrace public cloud options, improve customer service, and expand market share, while improving sales efficiencies and global results.
His past includes both smaller, high growth technology companies, as well as the largest tech players in the world. This included executive roles at: Gartner Software Solutions, sold to Digital River and Corio, which was acquired by IBM. Gartner continued at IBM for 3 years, helping them establish and build their core ERP applications managed service offerings, IBM Applications on Demand where helped build the Go-To-Market plan and sales organization achieving triple digit growth year-over-year. Gartner's experience also includes two tours working for Oracle Corporation, over 11 years, focused on Oracle's most strategic customers, their ERP applications and ultimately, cloud applications. While at Oracle, Gartner helped some of the largest customers on early efforts with cloud applications, hybrid solutions and partnerships which helped expand functional use and capabilities.
"I am thrilled to join this team. Denovo has the technology, people and mission to help customers using Oracle JD Edwards, Oracle EBS, and Oracle Cloud ERP take advantage of the benefits of cloud and managed services, today" said Gartner. "Every day, the team at Denovo helps customers lower risk, cost and enjoy greater speed-to-benefit, in optimizing Oracle applications. Our path forward is to focus on our customers success and help share their experiences with Oracle ERP customers looking for ways to improve their costs, delivery, as well as gain access to emerging technologies like AI, deep learning and predictive/prescriptive analytics."
Chris' work experience began immediately after earning BS in Business Administration, from Fairfield University.
"Chris is an experienced leader, with a proven track record in leading organizations, partnering with customers to jointly achieve their goals," said David Shimoni, CEO of Denovo. "I am confident in his ability to help scale our company thoughtfully – continuing to make our customers' needs central to innovation and expansion."
About Denovo
Established in 2003, Denovo Ventures, LLC (Denovo) is a full-service enterprise hosting, cloud computing, application managed services, managed disaster recovery, and professional services firm with extensive expertise in designing, implementing, and supporting enterprise software.
Denovo is proud to be an Oracle Partner. Our team of over 300 Oracle resources has a combined 3,600+ years of Oracle experience. This includes successfully completing JD Edwards, Oracle E-Business Suite, and Oracle ERP Cloud implementation projects for a wide variety of commercial and public-sector clients. The company is headquartered in Boulder, Colorado. For more information on who Denovo is, please visit our website at Denovo-us.com.