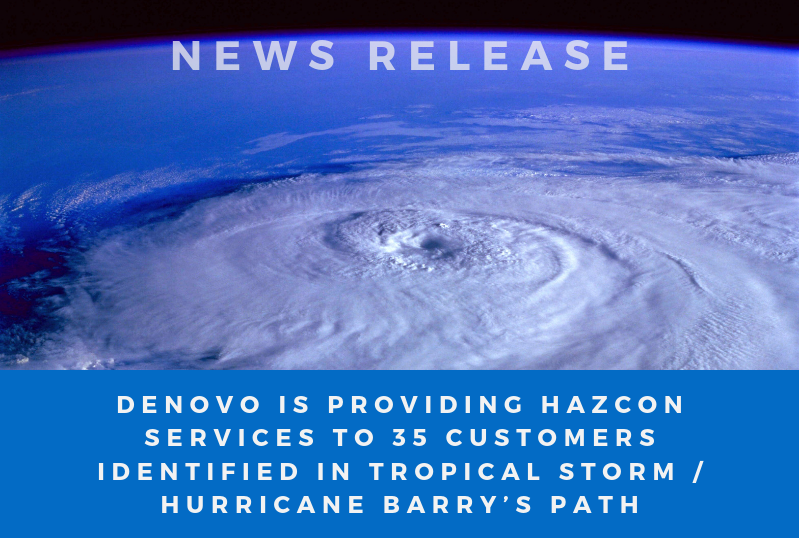 Denovo is taking immediate proactive action to stay in front of destructive events BEFORE they happen to further ensure their customers' mission critical applications availability.
Denovo, has identified 35 customers that are in the potential path of Hurricane Barry. In an effort to stay ahead of the potential danger, Denovo is initiating its Hazardous Condition ("HazCon") Support Plan designed to help their customers be fully prepared.
A Tropical Storm Warning and Hurricane Watch are in effect for much of the Louisiana coast and additional watches and warning could be required later today. There is a danger of life-threatening storm surge along the coast of Louisiana, with the highest surge expected between the Mouth of Atchafalaya River and Shell Beach.
The slow movement of this system will result in a long duration of heavy rainfall along the central Gulf Coast and inland through the lower Mississippi Valley through the weekend and potentially into next week.
Denovo's HazCon Support Plan is designed to accelerate proactive management of critical business systems in the event of any hazardous condition such as this. Denovo subject-matter experts will work with their customers to develop preapproved support plans to prepare for the event and manage contingencies until the threat has passed. The Denovo Operations team augments the existing 24x7x365 monitoring and surveillance for these specific customers during our HazCon Support Plan.
Denovo's CEO, Marty Snella commented, "We take the mission critical application continuity of our clients very seriously and are on high alert as we monitor this current situation. We emphasize preparedness during weather situations and ongoing events."
Internally, the Denovo team is loading relevant data so that they can collect updates from everyone and publish them continually. Customer Service Managers are reaching out to their customers to check on preparations for the storm and offer any needed assistance.
About Denovo
Established in 2003, Denovo Ventures, LLC is a full-service Enterprise Hosting/Cloud Computing, Application Managed Services, Managed Disaster Recovery and Professional Services firm with extensive expertise in designing, implementing and supporting enterprise software. Denovo has provided services to over 1,500 customers. Denovo delivers bundled solutions from their enterprise data centers located in the United States or through several public cloud environments.
As the most experienced mid-market Oracle Platinum Partner, Denovo's team of over 300 Oracle resources have a combined 3,600+ years of Oracle experience. This includes successfully completing JD Edwards, Oracle E-Business Suite, and Oracle ERP Cloud implementation projects for a wide variety of commercial and public-sector clients. The company is headquartered in Boulder, Colorado. For more information on who Denovo is, please visit our About Us page.