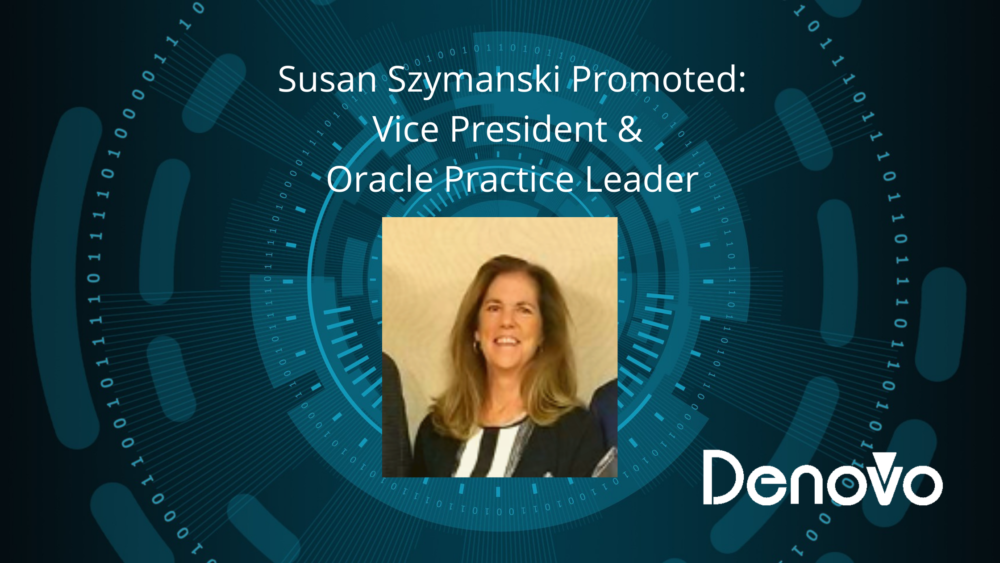 Boulder, CO – March 1, 2021 – Denovo Ventures is pleased to announce the promotion of Susan Szymanski to Vice President & Oracle Practice Leader.
Susan will be responsible for the enablement of Denovo's Oracle Solutions Architecture Team. In this role, Susan will guide the team in the scoping, sizing and pricing for Denovo Professional Services. This role will also provide her with the opportunity to spend more time understanding customer and prospect business needs to define new Denovo services and expand current offerings.
Susan has extensive knowledge of ERP systems, having started her JD Edwards career within development, building development teams and methodology to support the full development life cycle within JD Edwards projects. Susan's role then expanded into project management and leadership roles, serving as Director of Development at CD Group and Vice President of Delivery for Denovo. Susan's development and implementation experience coupled with her leadership background make her the ideal fit to lead Denovo's Oracle Solutions Team.
"Susan brings together real industry and customer experience with an excellent command of Oracle application functionality. Her ability to show a customer options on automation and 'right-sized' process improvements the difference between good and great results. We are thrilled to have her as a leader in our company," said Chris Gartner, Executive Vice President of Denovo.
Susan has been integral to Denovo's success in Professional Services opportunities while curating repeatable offerings based on customer needs. Denovo Code Current and Denovo Unlimited Functional Support are two examples of offerings that Susan helped bring to fruition. As Denovo continues to collaborate with customers to enhance its Managed Services offerings, Susan will help to refine our Application Lifecyle Management Services offering and will develop additional customer-centric solutions.